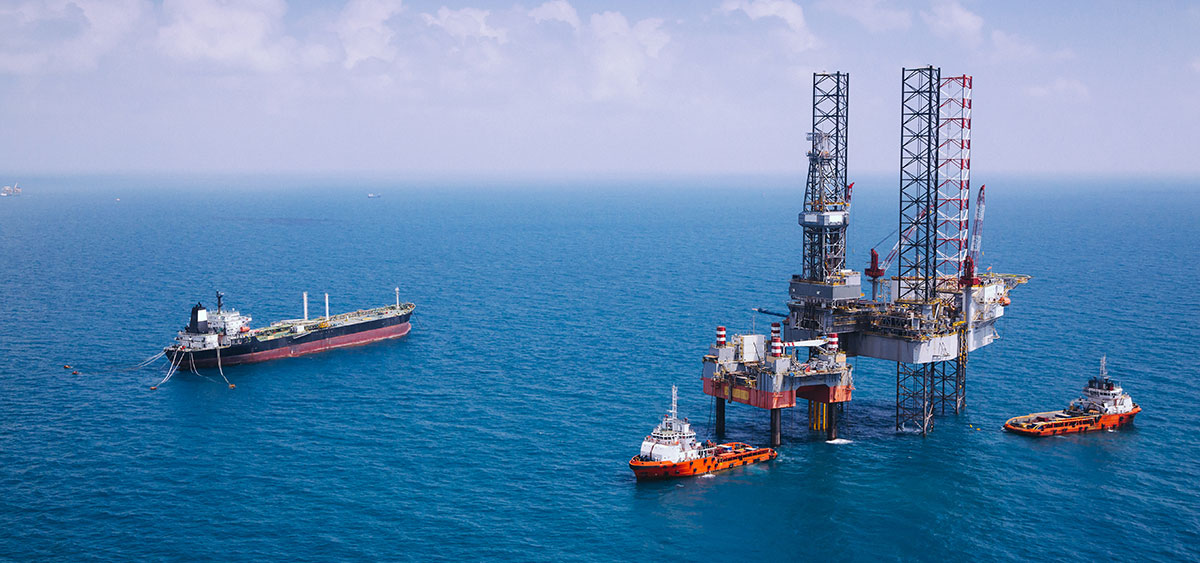 Technology Trends in Offshore Operations for 2020–2022
On the Norwegian continental shelf, several new fields are under development, and large investments are being made. Despite soaring activity, however, oil prices have tumbled over the summer, mainly due to the slowing global economy and ongoing trade disputes. In other words, volatility remains the only constant in an industry facing both challenges and positive prospects for growth.
The KonKraft report, "Competitiveness – changing tide on the Norwegian continental shelf", published in early 2018, highlights the fact that resources have not been discovered which can maintain today's level of oil and gas production beyond 2025. Nor are any major development programmes known after 2022.
So then the question arises: How does the oil and gas industry remain competitive in the years ahead?
Digital transformation is critical
The KonKraft report states that in order to succeed, the industry needs to "realise the potential offered by digitalisation", which in turn will improve safety, optimize operations, and reduce associated costs and CO2 emissions.
In other words: As an offshore operator, you need to embrace new technologies.
The obvious, but absolutely necessary, first step is keeping up-to-date with the latest innovations advancing your industry. To help you do this, we have identified 5 strategic technology trends that will impact offshore operations in 2020 and beyond.
Trend #1. Automated and remote drilling operations
Ever since the downturn in 2014, there has been a tight focus on efficiency across the oil and gas industry. But tides are turning. Today, much of the industry's research and development spend (R&D) is going towards technologies to improve both the environmental and operational performance of new projects or existing operations.
More and more leading offshore operators are looking to digital technology to provide the long-term efficiency and productivity gains they need to maintain their competitiveness.
As we touch upon in a previous blog article, Aker BP – one of the premier exploration and production companies on the Norwegian shelf – is working closely with technology partners to leverage the full spectrum of digital technologies in their continuing efforts to optimise and automate onshore and offshore drilling operations.
Their ultimate goal? To digitalise the entire life cycle of their assets, from new ventures to abandonment.
Trend #2. Using robots for autonomous inspection
A robot working alongside humans on a North Sea platform? Once a distant aspiration – now a reality.
Traditionally, inspecting hard-to-reach areas in offshore facilities involves shutting down operations, building scaffolding or setting rope lines, and sending an inspector into hazardous areas with a camera. Operations like these pose HSE risks and require costly operational downtime, chipping away at the bottom line.
This is about to change, as using autonomous drones and robots for oil and gas inspections is gaining ground. With cutting-edge robotic technology, both regular and emergency inspections can be completed quickly, precisely and in a cost-efficient and safe manner.
Eelume
The self-propelled Eelume underwater snake robot, developed at the Norwegian University of Science and Technology (NTNU) and supported by Kongsberg Maritime and Equinor, is to be piloted at the Åsgard field in the Norwegian Sea. The robot is engineered to live permanently under water and will carry out inspection, maintenance and repair jobs at subsea installations.
System T
Norwegian tech start-up Surface Dynamics is developing remotely-operated special purpose robots for surface treatment and repair inside tanks and voids in offshore environment, including inspection, pre-cleaning and blast cleaning.

---
The HSE benefits of removing human workers from unsafe working conditions are effectively summed up by Surface Dynamics themselves:
"Robots don't suffer hearing loss from intense tool noise – they don't have lungs that fill up with toxic dust, they don't have hands that turn white from neural vibration damage. Robots love heavy and repetitive work, they don't tire, and they can work fast. What more is there to say?"
---
Leveraging robotics in offshore operations will undoubtedly improve safety and reduce costs. Robots like Eelume and System T represent an exciting new paradigm for the oil and gas industry.
Trend #3. Remote condition monitoring
Offshore oil and gas facilities require frequent maintenance to ensure safety and avoid failure. Making sure everything works reliably can be a complex task for any operator, no matter how great their internal resources.
The push for reduced OPEX, increased regularity and improved safety has compelled the industry to make maintenance processes proactive instead of preventive.
Several operators are focusing on condition-based maintenance supported by remote condition monitoring, where the condition of the system is continuously monitored through sensor measurements.
Unlike in planned maintenance, where maintenance is performed according to a strict calendar schedule, condition-based maintenance can show the actual state of the monitored equipment. This enables the operator to perform preventive maintenance on the equipment to help avoid costs and consequences of unplanned downtime or production slowdowns.
Trend #4. Artificial intelligence
The oil and gas industry's push for production optimisation has made operators turn their eyes towards the field of artificial intelligence (AI). Artificial intelligence has many potential applications in the oil and gas industry, from facility management to predicting production trends.
Read more: Artificial intelligence – what is it, and where are we headed?
More and more organisations see AI as a key to unlocking the next productivity revolution in the industry.
The Centre for Artificial Intelligence Research (CAIR), hosted by the Department of ICT at the University of Agder, is conducting fundamental artificial intelligence research. CAIR's mission is to attack unsolved problems and push the research frontier, seeking superintelligence (an intellect that is much smarter than the best human brains in practically every field, including scientific creativity, general wisdom and social skills).
Equinor is working with DNV GL and Telenor on the Norwegian Open AI Lab, which is an extension of the Telenor NTNU AI-Lab in Trondheim. The lab will develop AI solutions to help solve challenges across fields and usage areas.
Last year, Aker BP, Cognite and Solution Seeker entered into a partnership agreement to leverage artificial intelligence for real-time, data driven production optimisation.
Shell, too, is developing and deploying AI applications at scale. The company will use technology from C3 IoT and Microsoft Azure to predict when maintenance is needed on compressors, valves and other equipment; help steer drill bits through shale deposits; and improve the safety of employees and customers.
AI technology is evolving at warp speed. The AI market in oil and gas has been estimated to reach $2.85 billion by 2022, growing by a compound annual growth rate of 12.66 percent.
Trend #5. Remotely operated and autonomous cranes
Digitising and optimising lifting and logistics handling is a vital step to ensuring a continued competitive edge for the Norwegian continental shelf and to reduce the number of incidents and accidents.
Between 1994 and 2017, 10 out of 16 fatal accidents were related to crane and lifting operations (excluding helicopter accidents). Remote crane operation allows humans to be removed from a dangerous and harsh working environment to the safety and comfort of a control room. Thus, remotely operated cranes will contribute significantly to the overall goal of all players in the industry: No incidents or accidents during operations.
Read our two-part blog series outlining why remote operations will play a critical part in reducing cost and improving safety for lifting operations offshore.
Summary
By establishing strategies for digitalisation and investing in innovative technologies, forward-looking oil and gas companies are demonstrating that the "digital oil field" is more than a "buzz" phrase.
All trendsetting industry players agree: For developments and operations on the Norwegian continental shelf to improve safety and remain competitive, profitable and sustainable in the long term, new technologies need to be adopted across the supply chain.