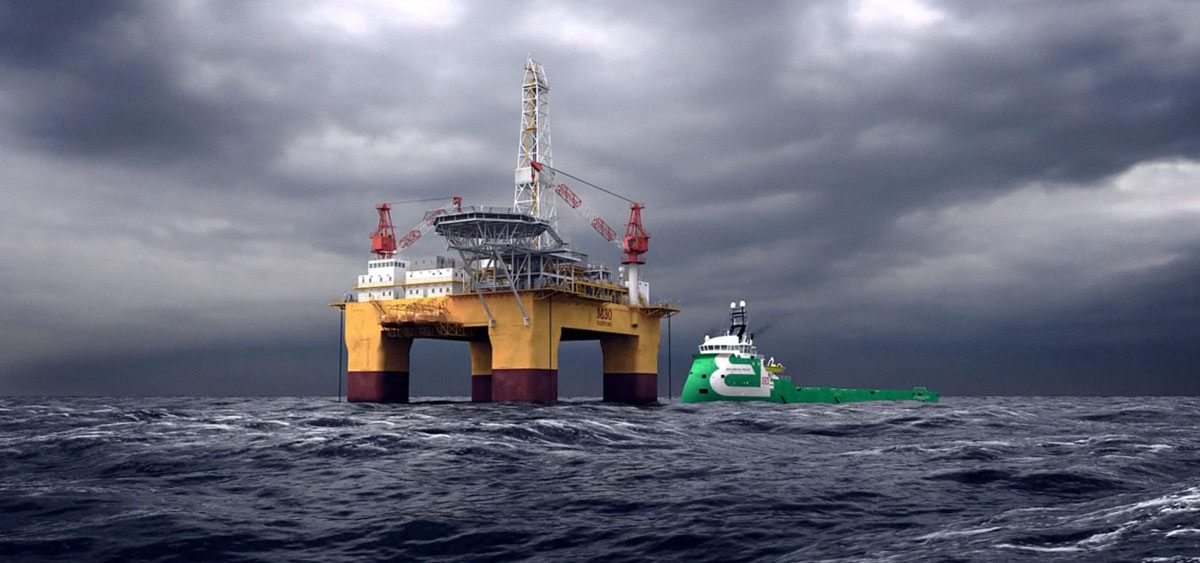 Autonomy – the future of offshore lifting and logistics operations
While the oil and gas industry has been at the forefront of innovation and technology development since the petroleum activities started on the Norwegian continental shelf, offshore lifting and logistics have been lagging behind.

However, as low oil prices and weak demand has taken their toll on both industry profits and spending projections, oil and gas operators are increasingly turning to technology and innovation to maintain a competitive petroleum sector.
As OG21 (Oil and gas for the 21st century) Chair of the Board Elisabeth B. Kvalheim states: "To achieve this we need to maximize resource utilization, improve industry productivity, reduce cost and reduce greenhouse gas emissions. This is a challenging task, where utilization of technology and innovation will be key to success."

The downturn experienced in the last few years has pushed the oil companies and the supply industry to improve profitability by operating more efficiently and reducing costs. The Norwegian petroleum sector aims at a 50% reduction in offshore drilling costs.
Numerous pilot projects for autonomous oil and gas operations
Offshore industry stakeholders, from tech companies to universities and research institutes, are currently pushing forward to develop, implement and adopt new solutions that can drive efficiency and reduce operating costs. In the North Sea, Rambøll Oil & Gas has studied various unmanned wellhead platform concepts and determined that such platforms can be both cost-and production-effective development concepts.
In this Offshore Technology article about the Oseberg Vestflanken 2 unmanned project, Pieter Krynauw, vice president of Honeywell Process Solutions' (HPS) projects and automation solutions business, states: "As companies move oil platforms farther offshore and into other remote, challenging locations to find oil and gas, managing those operations efficiently while reducing risk to workers will become increasingly important."

A peek into the oil and gas industry crystal ball turns up a crystal-clear trend: Autonomy is the future of the entire logistics flow in the petroleum industry. Pilot projects are being carried out in several countries, from drone ships to self-driving trucks. Suncor Energy Inc., Canada's largest oil company, has entered into a pilot project with Komatsu Ltd., the Japanese manufacturer of earthmoving and construction machines, to purchase autonomous trucks for its oilsands operations in Alberta. If the company proceeds with the technology after the pilot, implementation will take place over a number of years.
Kongsberg Maritime and the UK's Automated Ships Ltd have signed a Memorandum of Understanding to build the world's first unmanned and fully autonomous ship for offshore operations – the 'Hrönn'. Kongsberg Maritime is also responsible for development and delivery of all key enabling technologies for the vessel YARA Birkeland, which will be the world's first fully electric and autonomous container ship, with zero emissions.
The Port of Rotterdam automated RWG terminal is operating largely autonomously, with remote operators.
Obvious benefits of removing humans from logistics operations are improved efficiency and safety. An autonomous truck or unmanned ship doesn't need to stop for lunch breaks or shift changes.
Now let's take a look at autonomy within offshore lifting and logistics operations. What is the current status?
Autonomy is quickly becoming the logistics industry standard, and the Norwegian petroleum sector is pushing to be at the helm. In the North Sea, for instance, unmanned platforms are currently being planned for Aker BP's North of Alvheim and Askja-Krafla (NOAKA) project. For oil and gas on the Norwegian continental shelf to stay competitive and cost-effective further into the 21st century, developing new technologies that reduce the number of time-consuming manual tasks is vital.
Despite this, innovation for offshore cranes, lifting and logistics has been slow-paced. In a conservative business atmosphere, with a deep-rooted culture of doing things "the way they have always been done", new technology initiatives have traditionally been met with indifference or scepticism.
Autonomy for a competitive and sustainable oil and gas future
In order to remain competitive, leading industry operators have decided to pursue a range of initiatives to automate high-cost, repetitive logistics operations. The digitalisation project in Aker BP is one such initiative, aiming to achieve more effective and safer operations by automating critical work tasks.
Offshore installation manager at Alvheim FPSO, Thomas D. Hoff-Hansen, points at three main logistics challenges (in Norwegian) that need to be solved by new technologies:



Optilift is developing solutions that will solve these challenges. From day one, our mission has been to improve lifting and logistics technology to achieve safer and more efficient offshore logistics operations.
Developing the autonomous crane is key to this objective for Optilift, however all the tools we develop at Optilift are also designed to increase safety and efficiency of current cranes, run by crane operators. We believe that the future of new field developments and concepts offshore and in the maritime industry will be remotely operated and autonomous.
We're excited and proud to be a part of setting the petroleum sector on the path to this competitive and sustainable future with our crane intelligence solutions.