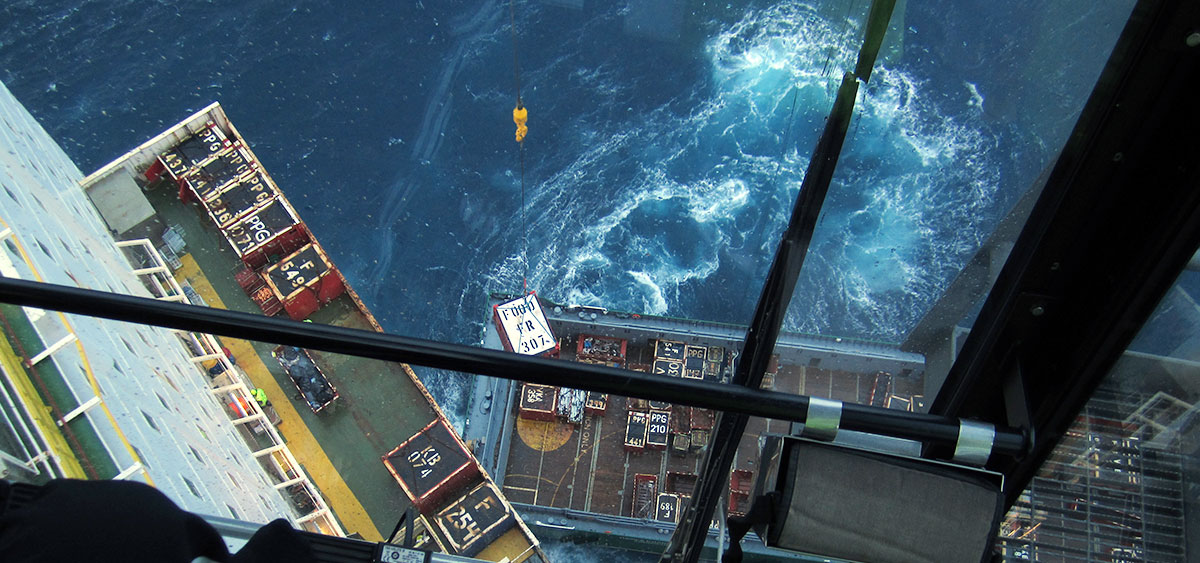 How to improve deck load capacity and lifting efficiency through planning: Part 1
Like many other industries, from transport and logistics to automotive and aviation, the oil and gas industry is currently undergoing a large-scale digital transformation. The digital shift is providing unparalleled business opportunities and will change the way of performing the work for all kind of employees, especially those involved in operations.
Traditionally, offshore lifting and logistics have relied heavily on manual operational models and processes, and until recently there has not been any other way. Hence, the operations and control in the logistics chain have not been efficient compared to an otherwise digitised business world.
For several decades, onshore logistics providers have created new and innovative delivery solutions, as well as new business models for improving operating efficiency. Package tracking – allowing customers/users to track their packages, so that they know when an item has been shipped and when to expect delivery – is not only the most wanted online shopping feature, it has become an expectation even when people send letters and packages by national postal services.
Now it is time to ensure that the offshore oil and gas industry gets up to speed and even surpasses the onshore logistics solutions!

The current situation
Historically there seems to have been a higher degree of track and trace available for letters and low-priority packages shipped privately between individuals, than for highly valuable and mission-critical cargo carrying units bound for offshore installations. Expensive equipment may be unaccounted for in the supply chain between port and offshore installation, whereas the location of private parcels often can be determined by a couple of key presses.
For many offshore installations, planning and execution of lifting sequences and target deck locations is a manual and "analogue" process. Manifests for vessels may exist as lists submitted on email or it may be part of an SAP shipment. Often the information is separated in different systems and not integrated to form a streamlined process.
In cases where digital manifests do exist, lifting plans and desired locations for Cargo Carrying Units (CCU) bound for offshore installations are manual and typically on paper. The actual location of CCUs are recorded manually, either on paper or in SAP text-fields, or communicated verbally among logistics personnel.
Normally, offshore workers that need access to equipment or that are waiting for equipment to arrive, need to consult with logistics personnel such as the storekeeper or crane operator to get information on their CCU location. They may spend hours (sometimes days) of unproductive time waiting for their equipment while it is actually on site. Due to inaccurate or missing information on where the CCU is located, personnel may waste hours checking the various loading decks in search of the right CCU. On occasions, there may be uncertainty as to whether or not the CCU in question even arrived at the offshore installation.
Reduce waste and increase work flow efficiency
An analysis performed by a leading oil exploration and development company indicated that offshore workers on a floating production, storage and offloading (FPSO) unit typically spends 10-15% of their effective working hours looking for equipment.
A full-time position (three employees working in a rotation, 12-hour shifts, two weeks at a time for each, all year round): 12 hours x 365 days = 4,380 hours. An example with hourly labour cost of NOK 2,000 equals an annual cost of NOK 8.8 million. Thus, 10% lost time would equal NOK 876,000 for this role alone. How can increased control of logistics help to improve the efficiency?

Manual logistics tools

lead to

increased costs
If the deck areas on an offshore installation are crowded, or there is a narrow weather window for performing sea lifts, today's planning tools and execution of lifting plans may result in several intermediate lifts before getting access to the wanted CCU. In addition, important cargo may end up being returned to shore causing planned operations to fail. In some cases, CCUs have gone missing, and new equipment had to be ordered. Even if the CCU is discovered at the incorrect offshore location at a later point, the negative impact cannot be recovered.
In these cases, operators often need to request for another supply vessel delivery, which may be costly. Day rates for Platform Supply Vessels (PSV) range between NOK 100,000 and NOK 160,000, and they often need to be hired for at least a week. On top of this, fuel costs may add cost of NOK 10,000 to 20,000 per day.
Without accurate information for each lift and CCU content, information about dangerous goods and appropriate handling procedures may also be lacking. For the safety of the crew on board, there is a need for easily accessible real-time information when dangerous goods arrive, in order to facilitate that the correct procedures for handling and storage are followed.
The current situation is not due to operators not doing their best, but rather due to the necessary tools not having been available for improvement to take place. This is no longer the case. So how can you improve significantly and reduce waste of time and money in lifting, deck loading and storage operations? Find out in the second and final part of this article that will be published next week.