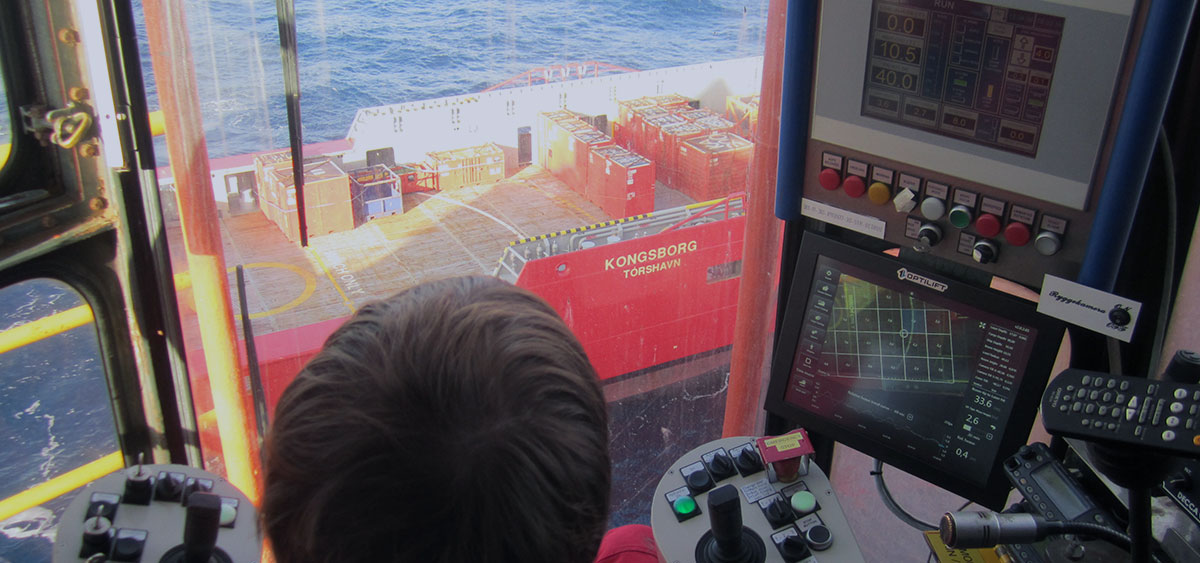 How to improve deck load capacity and lifting efficiency through planning: Part 2
Technological advances have made a real impact on nearly every aspect of modern life. New and innovative solutions to common challenges in the logistics segment of the oil and gas industry are beginning to surface.
In the spirit of digitisation these days, there is a new willingness among offshore workers to participate in piloting and testing of new technology. Also, the downturn experienced over the last few years has led to an increased awareness related to cost reductions. Optimisation of logistics handling is becoming a more pressing issue throughout the industry.

The desired situation: Improved planning and use of resources
Now there are new tools made available to improve efficiency and reduce risk of incidents related to offshore lifting and material handling. Real-time information about utilisation of offshore loading decks and the actual location of Cargo Carrying Units (CCU) will enable better planning and use of resources. Better planning and execution of plans will lead to fewer lifts and increased safety. A more accurate placement of the goods relative to the well center during drilling and well operations will also lead to more efficient execution of the actual projects.
What's more, by merging information from deck planning, sailing routes, cargo manifests, lifting sequences, target locations, intelligent crane monitors with vision technology and fully integrated offshore- and onshore logistics systems, the following benefits will be achievable:
CCU locations automatically updated in real-time
Optimal use of loading decks
Optimal use of supply vessels (PSVs)
Fewer internal lifts on platforms and rigs, reducing risk of incidents
Better planning and execution of plans
Better utilisation of loading decks
Immediate alerts to recipients when goods arrive or are expected to arrive
Avoiding wrongful return of goods, manually searching of goods, and CCUs "missing in action"
Reduced offshore stock levels
Weight of CCU to lift shown on crane monitor to avoid unsafe lifts (weight captured at onshore base)
Optilift Integrated Logistics – setting a new standard for offshore logistics handling
Optilift provides a suite of integrated features and solutions to improve safety, efficiency and logistics control related to offshore cargo handling – from a single hardware sensor mounted in boom tip of the crane boom.
Our robot vision technology, combined with innovative algorithms and software for optimal control and non-contact measurement and registration capabilities is the core for all our solutions and features.
The Optilift Deck Planner is a web-based planning tool that has "logistics digital twins" of the offshore installations, the supply vessels and onshore bases, with updated information about CCU locations, loading deck utilisation, limitations and special procedures for dangerous and fragile goods.
The Deck Planner also allows for drag-and-drop planning of lifting sequences.
The Optilift CCU Tracker is a vision-based CCU identification software that utilises the same camera mounted at the crane boom tip. It automatically identifies CCUs and their locations, without the need for instrumentations, tags, letters or barcodes. The Optilift Crane Monitor is integrated with the CCU Tracker and Deck Planner, showing planned lifting sequences on-screen to the crane driver, with intuitive indication of which CCUs to lift, their content, recipient, and where to place them. It also shows special procedures on dangerous goods and alerts about weight limitations on deck.
In order to qualify and commercialize Optilift's innovative identification and tracking technology, VOCA – Optilift's parent company – has an agreement with Aker BP to test the Optilift Integrated Logistics solution in a pilot project.
The pilot project will document that computer vision technology and artificial intelligence can be applied for tracking and identification of CCUs from port to offshore installations.
The future of offshore and marine lifting and logistics operations
To ensure continued financial viable oil production on the Norwegian continental shelf as well reducing the risks for incidents or accidents, logistics handling needs to be digitalised and optimised. Improved deck load capacity utilization and higher lifting efficiency through planning leads to reduced environmental footprint , increased safety and reduced costs. .
In many onshore industries autonomous and remote operations is currently being developed in order to remove humans from potential dangerous situations or processes. Offshore- and marine lifting and logistics operations taking place in all kinds of weather is considered to have a certain built-in risk. Thus, we believe that the future of offshore and marine lifting and logistics operations is by the use of remotely operated and autonomous solutions.